Build Your Career with Pennsy Supply
Become part of the multigenerational Pennsy family when you join our growing team of more than 600 people in careers ranging from field positions and operations to management and administration. Come learn about working at our company: the comprehensive benefits we offer, our family-like culture, the job opportunities available, and internships for college students. See links to current job openings below.
Benefits
People come first at Pennsy Supply. That's why we provide eligible employees and their families with a comprehensive package of benefits that covers:
Culture
We provide more than just benefits to our team members – we celebrate service anniversaries, retirements, birthdays, and life events. We recognize our teams when they do well, offer training opportunities, and find ways to have fun. We are involved with our communities, inviting groups to our plants and supporting organizations making an impact.
ABC27 TV's Good Day PA Show Highlights Opportunities at Pennsy Supply
Good Day PA host interviews Pennsy Supply President & CEO Christina Edgerton about the company's approach to hiring, inclusion, diversity, and the fact that many "best fit" people come from different industries outside of construction.
Pennsy Supply employs people in multiple generations, including Construction Operations Manager Rick McNelly and his son Elijah McNelly, a Construction Project Engineer. They talk with Good Day PA about training, development, and more.
Learn about Pennsy Supply's CDL driver roles from our Transportation Manager Jaclyn Weaber and Tim Wirickx, Ready Mix Driver.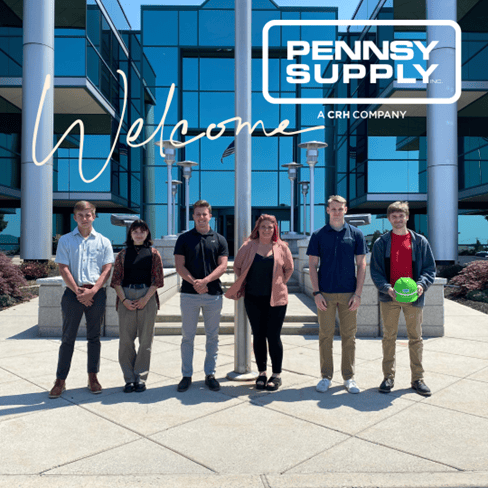 Internships
An internship here is an experience-based learning program that usually runs from May through mid-August. Entry is competitive and designed for college students majoring in fields of study related to or readily applied to the building materials and construction industry. Many former interns are now enjoying successful careers working for Pennsy Supply!
I am proud to be a Pennsy employee because of the way Pennsy promotes family first. My family is very important to me and to work for an employer who encourages that means a lot to me. It is an added bonus when you get to work with coworkers who you think of as family.
Robbie Durf
Assistant Superintendent, Mt. Holly Quarry
As far as what the company has to offer from profit sharing and 401k, it's been a great place to work. It's flexible, great bosses, I'm taken care of, great job security, and so much more. All you have to do is ask around here and help is given.
Shawn Goodman
Ready Mix Driver
Pennsy Supply helps provide a unique intern experience that is not easily obtained elsewhere due to their operations covering multiple sites each with their own unique challenges. If you are looking for great internship, Pennsy Supply is a great place to advance your career and increase your knowledge in mining.
Zachary Thooft
2022 Mining Engineering Intern
It makes me proud to be a part of such a great company that cares about their employees. It's like a huge extended family. As the saying goes "We are One Pennsy." One team striving to meet one goal. It's also wonderful that Pennsy is a strong supporter to the communities that we provide service to.
Heather Kyner
Weighmaster, Newville Quarry
Pennsy takes safety more seriously than I thought, and I really appreciate that in a company with required PPE, risk assessments, and conversations about improvement. I'd like to come back and work for Pennsy after school because I like what I'm doing in my internship now, so I hope I can continue that in the future.
Noah Craig
2022 Mechanic Intern
I am so passionate about this job because you're creating things when you deliver concrete. This is what drives me the most.
Tina Meli
Ready Mix Driver
I've seen safety come from nothing to excellency with this company. I think where we're at is excellent. Pennsy and CRH's safety are world class.
Joe Winters
Dorrance Quarry Lead Mechanic
I wanted a hands-on mechanical engineering experience, and Pennsy seemed to me that they have made a very good name for themselves. They just impressed me the most and out of all the internships I applied for, I was most excited for this one because of the design aspect and site work.
Abbie Michaels
2022 Mechanical Engineering Intern